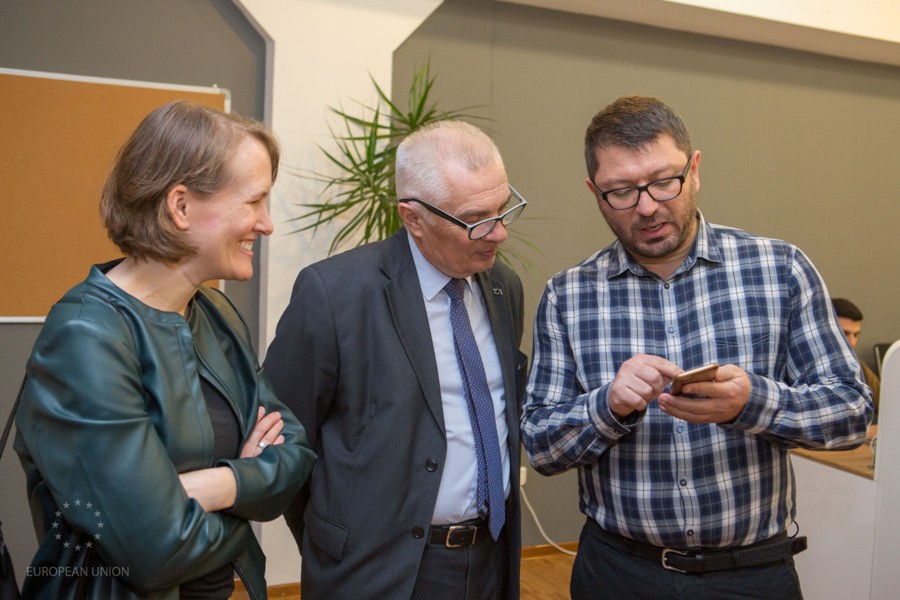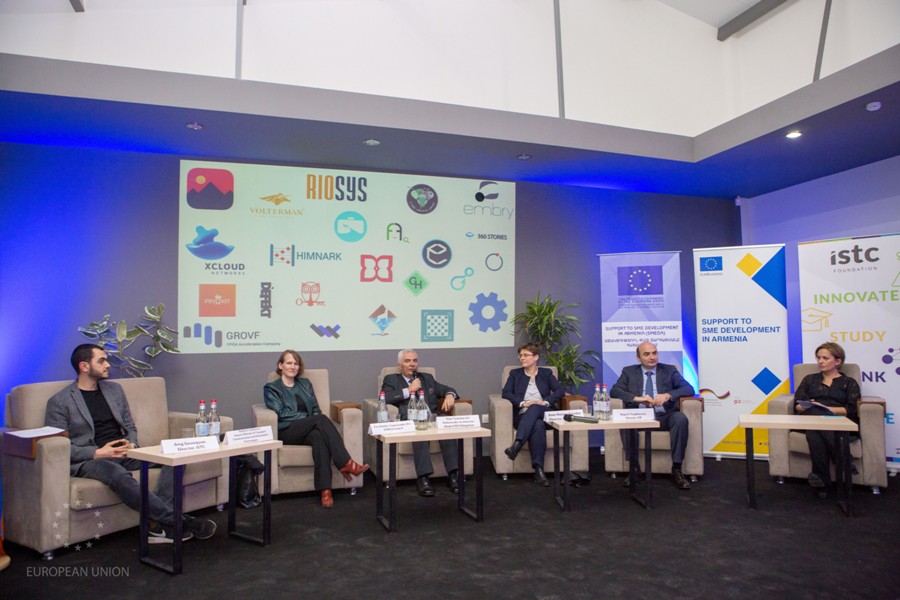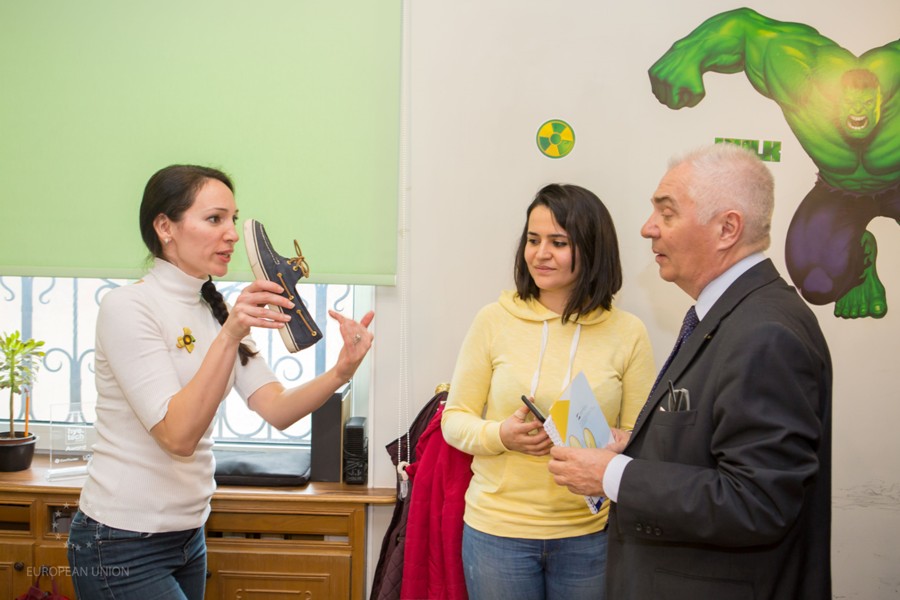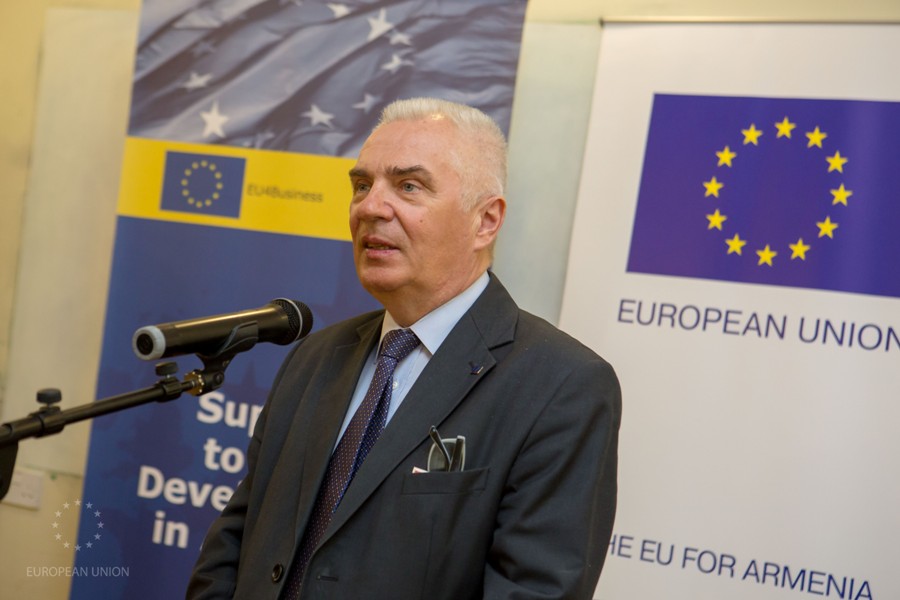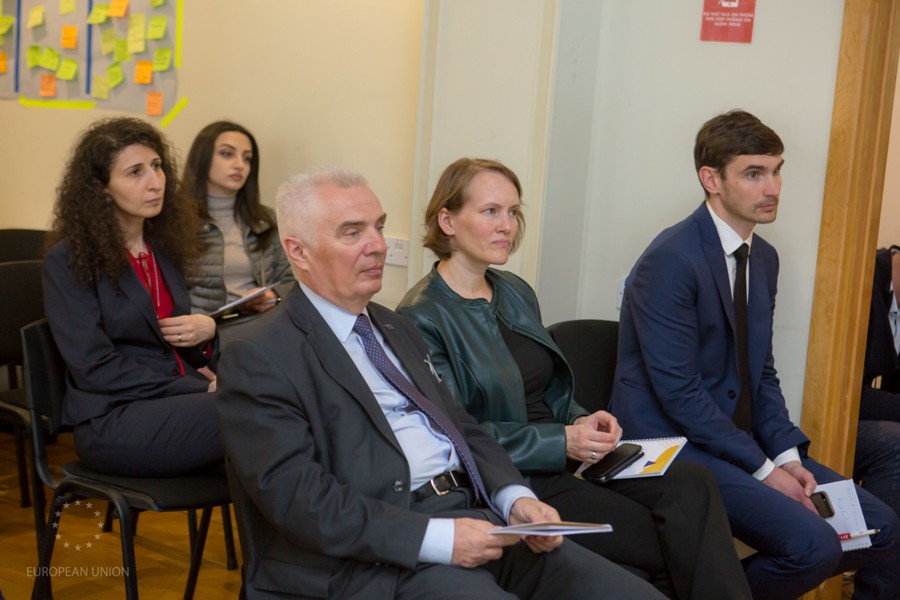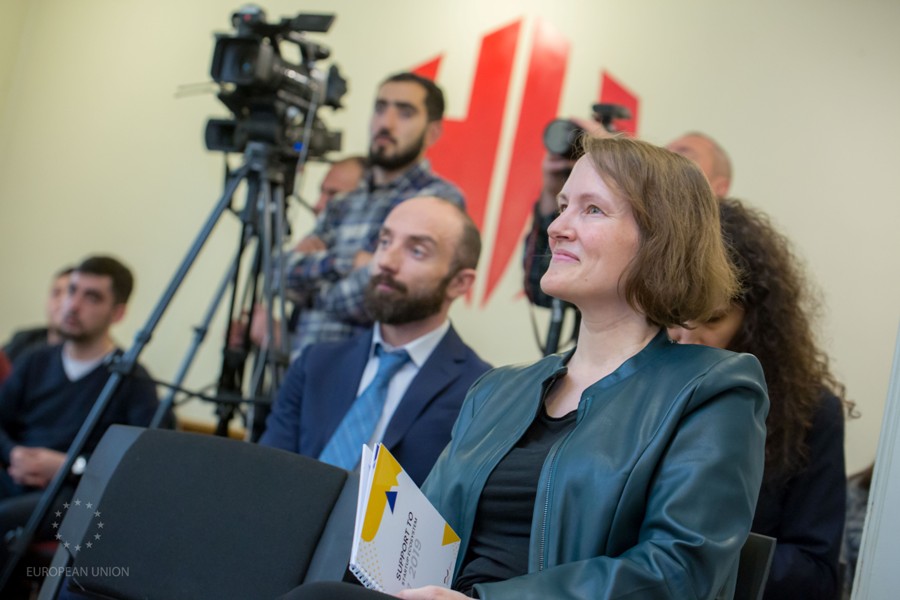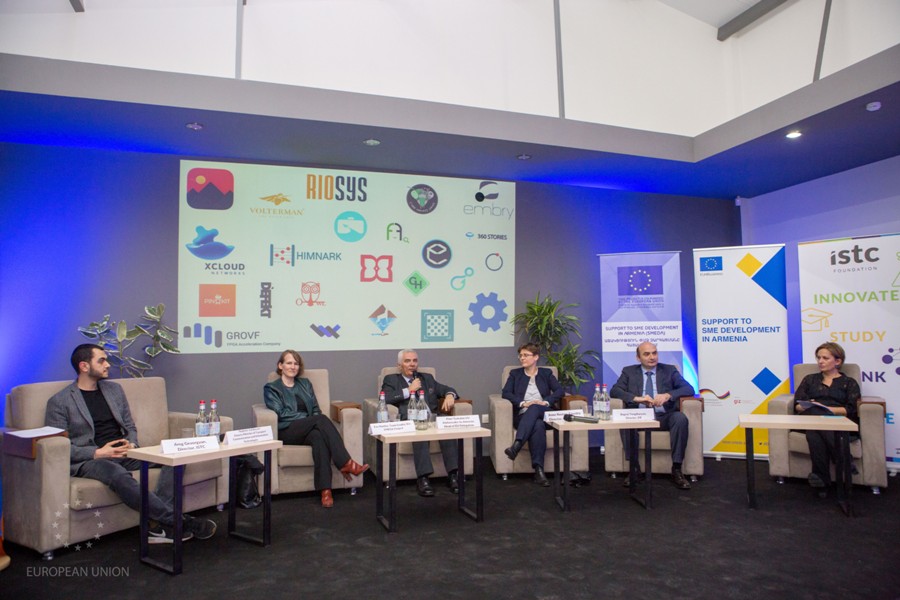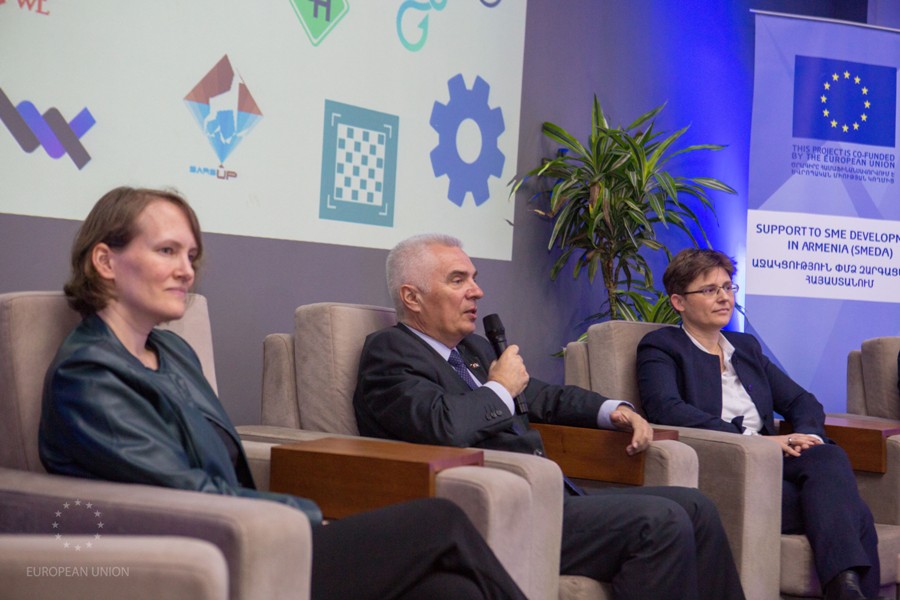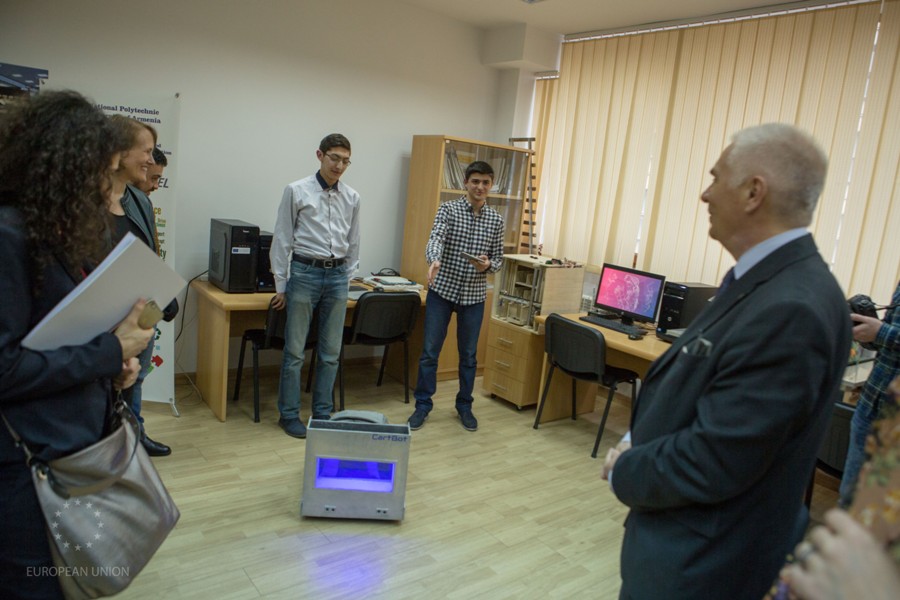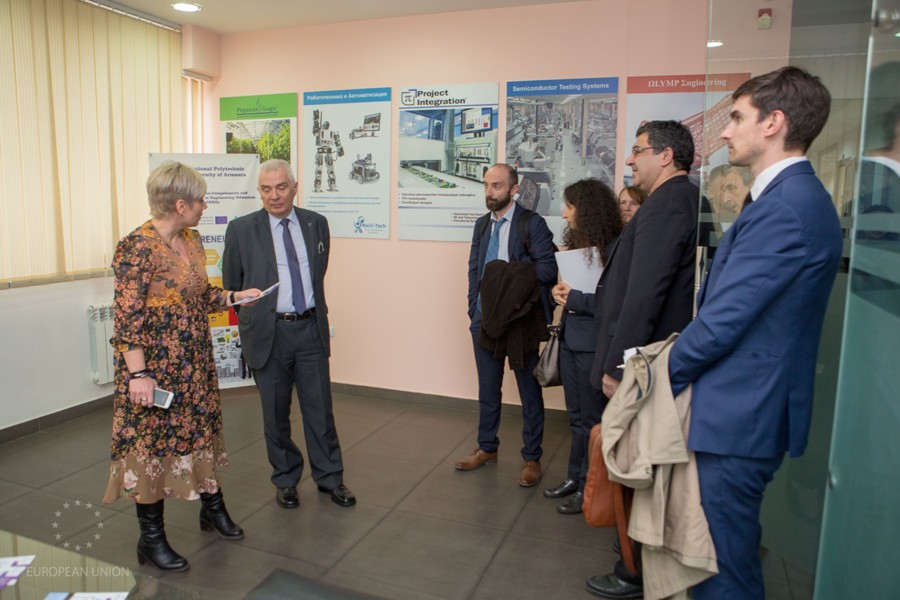 EU Ambassador to Armenia visited EU-SMEDA grantee startups within Startup Europe Week
On 15 March the EU Delegation to Armenia organised a site visit to the innovative companies and startups which have received technical and financial support in the framework of the European Union's "Support to SME Development in Armenia" (EU-SMEDA) project.
The visit was attended by the EU Ambassador to Armenia Piotr Świtalski and a group of journalists.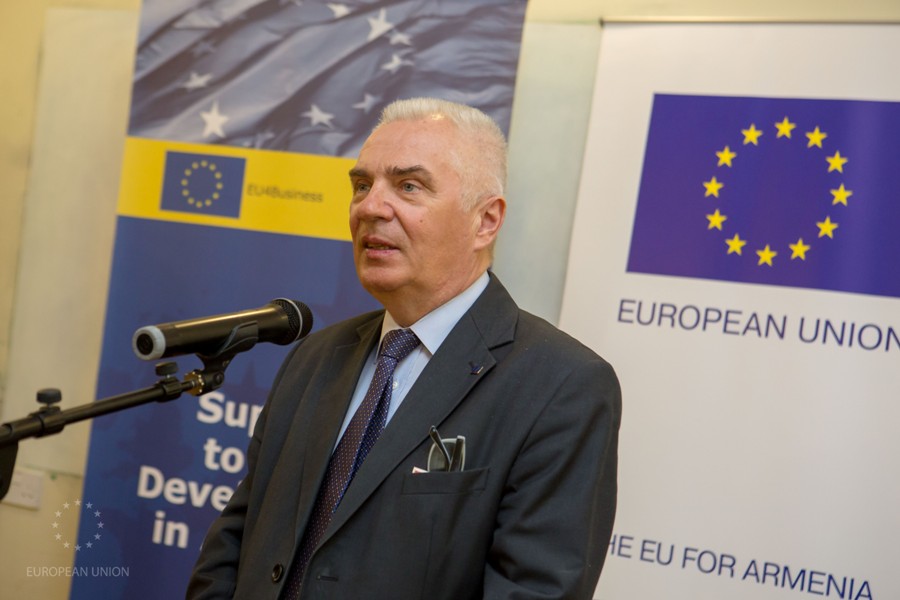 During the visit the EU Ambassador mentioned:
"There is a huge potential in startup ecosystem in Armenia as a driver for economic development and knowledge based growth. In particular, this is very interesting filed for younger generation. The EU supported cutting-edge start-ups we visited today are a vivid example of the fast-growing competitive tech ecosystem in Armenia".
The first stop of the visit was in Hero House. The guests learnt about the activities of Armenia Startup Academy and met with EU grantee startups Breedge, Embry, Renderchain.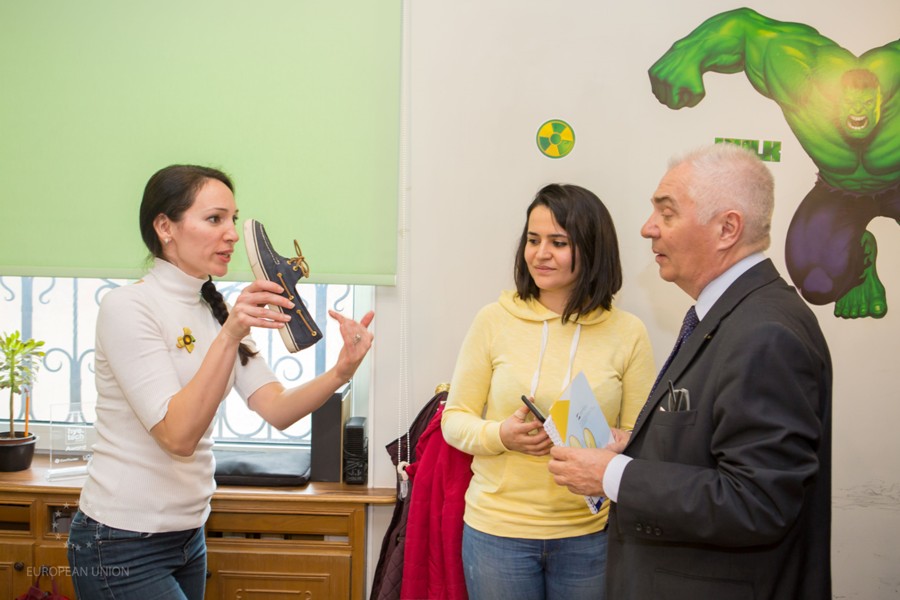 Breedge (STEP2 grantee) is an online platform that helps SMEs and Startups hiring in niche and emerging fields to find and invest in the right student talent. The web platform assists companies find the best candidates straight out of college for their junior/internship/entry-level positions. Breedge uses Machine Learning technology to analyze the data from both the students and companies and recommend the best matches.
STEP2 grantee Breedge: We see Eastern Europe a good entry-point to EU market
Embry is a smart insole which automates weight tracking, tracks physical activity and helps maintain weight loss. The product is unique because it is the first smart insole in the world that automates weight tracking. The startup received Innovation Matching Grant (IMG) in 2017.
IMG Grantee Embry: We expanded our network in EU and are now looking for collaborations
EU4B STEP2 grantee Renderchain is a decentralized peer-to-peer network that aims to let people contribute their computational power (personal computers, laptops, tablets) to a system that would rent them to businesses that need it.
The site visit continued in the offices of EU4B IMG 1 grantee Chessify and Qube. The startup founders represented their solutions to the EU Ambassador and the other guests.
Chessify chess platform that revolutionizes chess community experience by applying state-of-the-art Deep Learning solutions, offers services for both professional and amateur players.
IMG Grantee Chessify: The biggest usage of our app is performed in Europe
Qube startup has developed state-of-the-art online photo editor Pixomatic, which has a unique image cutting feature. It's possible to instantly remove a background from any photo, make it transparent, add different colors and filters, or change the background with another photo.
IMG grantee Pixomatic: We will have 10 mln monthly active users in a year
The next stop was in Armenian National Engineering Laboratories, where the guests learned about the products of EU4B STEP grantee Grovf and STEP2 Stem Didactics.
Grovf database server is a first of its kind dedicated, out of the box, FPGA-Accelerated NoSQL Database for storing IIoT sensors generated data. The prototype has already achieved 10x faster transactions and 31x power saving compared with state-of-the-art solutions.
IMG Grantee Grovf: The grant helped us accelerate research and development initiatives
Stem Didactics has developed PinoKIT, an affordable & functional educational trainer kit for STEM students to make a bridge between theory and practice through hands-on experiments.
The site visit was concluded in Innovative Solutions and Technologies Center (ISTC) with the official launch of Startup Europe Week Yerevan 2019.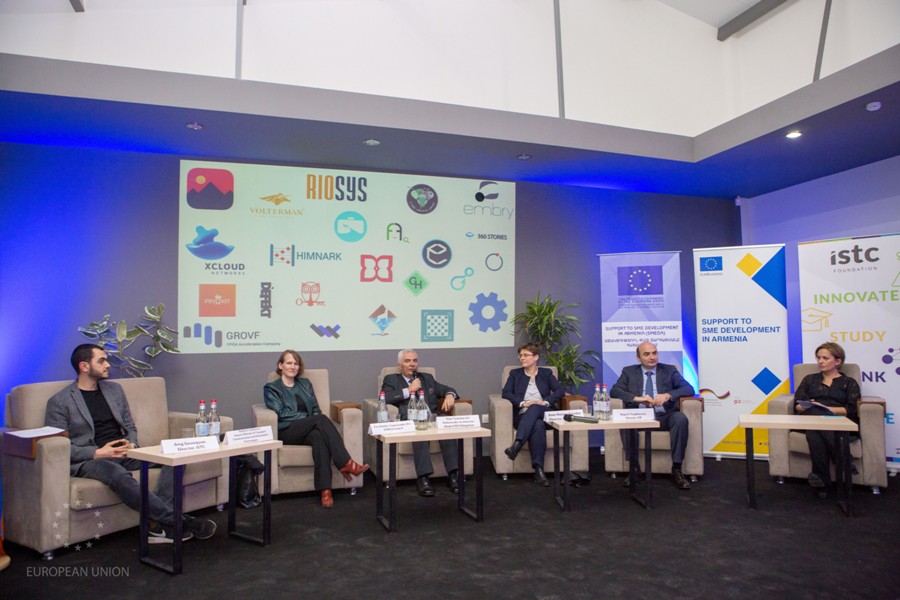 Since 2017 "Support to SME Development in Armenia" (EU-SMEDA) project, which is co-funded by the European Union and the German Federal Ministry for Economic Cooperation and Development (BMZ) and implemented by GIZ PSD SC Regional Programme, in cooperation with Enterprise Incubator Foundation (EIF), has been supporting Armenian startups with two grant competitions.
Being a part of the EU4Business and EU4Innovation Initiatives, EU-SMEDA provides 2 types of grants: Innovation Matching Grant (IMG) and Science and Technology Entrepreneurship (STEP).
Both grants specifically target tech-oriented SMEs and projects. In the first cycle companies received 8 IMG and 5 STEP grants (selection in 2017) with up to 50k and 15k Euro funding for 12 months.
In the second cycle companies received 6 IMG and 15 STEP grants (selection in 2018) with up to 30k for 9 months and between 4-15k Euro funding for 6 months.
Project results within supply-side-oriented startup support
224 new jobs were created due to participation in the programme
45 ideas in the market for new products and services
22 companies were newly established due to participation in the programme
Additionally, an amount of at least 400,000 Euro of investment was attracted
2,063 participated in trainings, workshops and boot camps
65 startups were supported
33 companies receive EU seed grants IMG and STEP