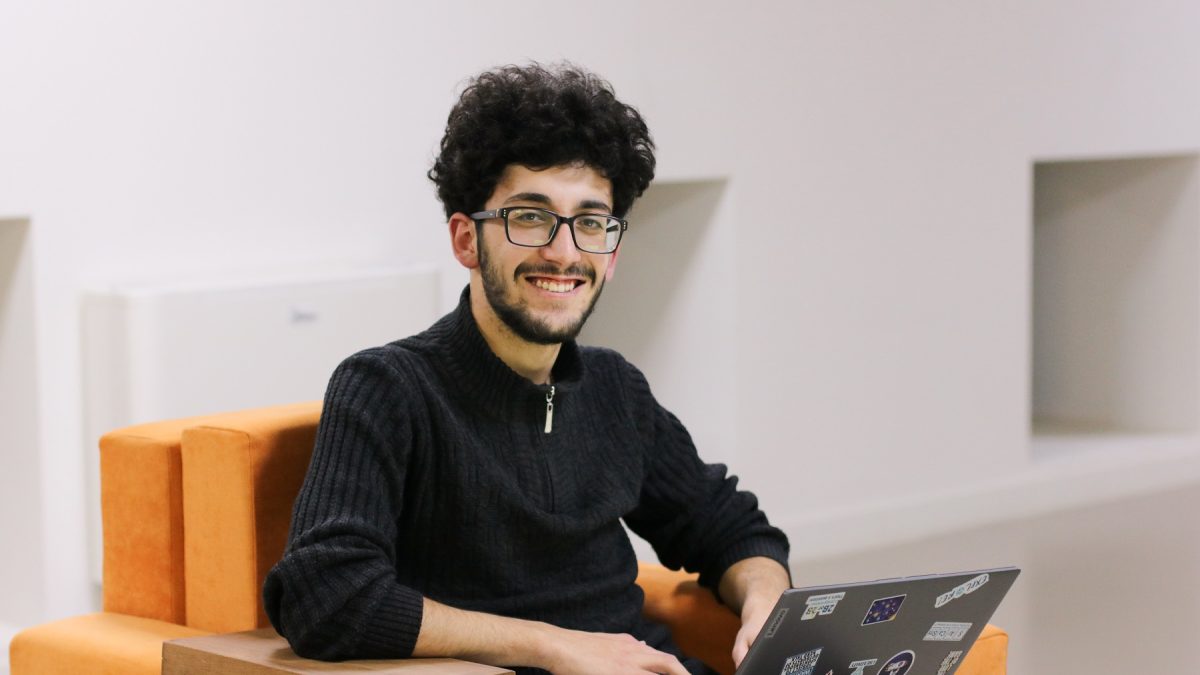 Artagers Grigoryan: "Stay committed to your dreams"
The Enterprise Incubator Foundation (EIF) consistently works toward boosting Armenia's IT/High-Tech industry and improving technological education in the country. As part of its efforts, the foundation in cooperation with partners implements the USAID-funded Armenia Workforce Development Activity.
In today's blog, we tell the success story of a beneficiary of the program, Artagers Grigoryan. He is attending the "Graphic Design" course, organized by the EIF and Vanadzor Technology Center (VTC) in the framework of Armenia Workforce Development Activity.
Back in a day, one of his dreams was to establish a new company in Vanadzor. It is no longer a dream but a reality – the result of tireless effort and motivation: Artagersis a co-founder of Unity X startup. Now a new goal of enlarging and expanding the business is set.
Artagers is from the town of Spitak (Lori region), he is a senior student at the Art Department of the Michael Tavrizyan State Art college of Vanadzor. Artagers learned about the "Graphic design" course from his sister and immediately decided to apply. "I was instantly interested," Artagers recalled. "And very motivated."
"Although I was already motivated, I was just as encouraged as others by our instructor Edita Hovhannisyan. She supported us so much," said Artagers. He also remarked that the course was a journey of discovering his potential as much as it was a great way to acquire new skills.
He studies painting, so the course was directly tied to his professional goals. "It definitely contributed to my artworks," noted Artagers. He also tried his hand at IT, and the "Graphic design" course reinforced the young man's confidence that he wanted to be involved in the IT industry.
Just as other participants of the courses held at Vanadzor Technology Center in the framework of Armenia Workforce Development Activity, Artagers aims to contribute to the development of his hometown, the Lori region, and Armenia as a whole.
"I think that we, the youth of Lori, should stay committed to our dreams. My motto is to never give up. Just keep trying, keep working, and you will succeed," said Artagers.
Armenia Workforce Development Activity is a five-year program funded by the U.S. Agency for International Development (USAID) and implemented by the Enterprise Incubator Foundation (EIF) and consortium partners, including the Armenian National Agrarian University (ANAU) Foundation, Fund for Armenian Relief (FAR), and Civitta Armenia.
Throughout its lifetime, Armenia Workforce Development Activity will provide 10,000 young people, with a particular focus on women and people with disabilities with the opportunities of getting their skills in line with the labor market needs, so that they become more competitive and succeed in better employment. The Activity will work closely with educational institutions such as vocational, training, higher education institutions, as well as with private sector companies to identify their needs and assist in training.