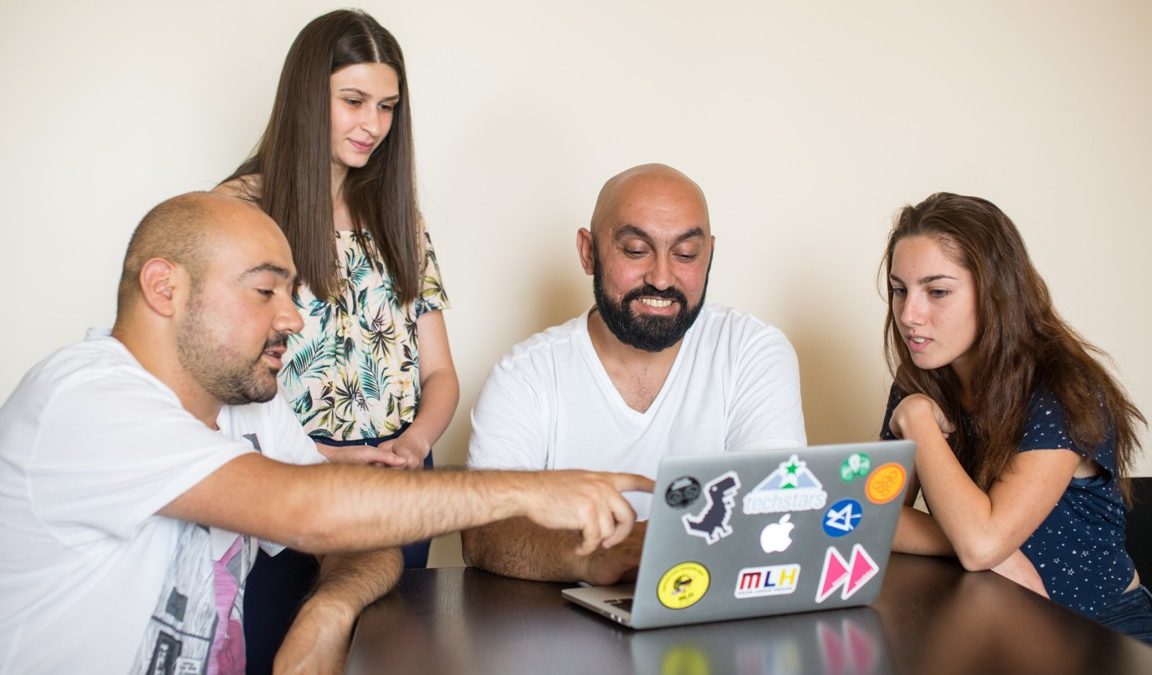 IMG Grantee 360Stories: The grant helped us to promote Armenia as an attractive travel destination
Since 2017 "Support to SME Development in Armenia" (EU-SMEDA) project, which is co-funded by the European Union and the German Federal Ministry for Economic Cooperation and Development (BMZ) and implemented by GIZ PSD SC Regional Programme, in cooperation with Enterprise Incubator Foundation (EIF), has been supporting Armenian startups with two grant competitions.
Being a part of the EU4Business and EU4Innovation Initiatives, EU-SMEDA provides 2 types of grants: Innovation Matching Grant (IMG) and Science and Technology Entrepreneurship (STEP).
With a series of articles, we will be exploring startups that received grant in the framework of the EU-SMEDA project.
360Stories is a platform that uses engaging 360-degree footage to sell one-day tours and attractions online.
The project is developing a solution for local travel operators to present Armenia and other countries on international trade shows in VR/360.
The founders of the startup are Vahagn Mosinyan and Albert Poghosyan.
According to the CEO of the company Albert Poghosyan, in the long run, 360 Stories is an AR company.
"However, for now, we focus on VR technology. We are the only company in Armenia offering services like this. Globally, the unique thing about us is that we offer a simple and quality solution that will help businesses reach 300% higher conversion rate for their products," he explains.
The startup team is quite big now with professionals from very diverse backgrounds. Over the last two years, Vahagn has managed operations, quality assurance and the photographing of all of the 360Stories sites. Thanks to his hard work and efforts, the startup is the first in the market to produce 360-degree videos to this standard.
Albert has 9+ years' of startup and project management experience and 4+ years of experience of working in VR/AR. Albert co-founded and managed Knoxlabs which created and delivered 25% of all Google cardboards in the market. He also co-founded a startup (Rodin) that went through the Techstars Boulder 2017 program.
360Stories has a team in Gyumri and in Yerevan and several freelancers work from other countries.
The story of founding 360 Stories goes 5 years back when Vahagn Mosinyan started massive shootings in Armenia. He was motivated to publish the shootings on Google Earth. Very soon things got more serious and Vahagn and Albert teamed up to further develop the idea into a startup.
"We applied for a competition to Orange Armenia and won a smartphone. We decided to sell that smartphone and buy a professional camera. Since then we have shared a common passion for photography and VR technology, so we built our startup that combined these two aspects," Albert remembers.
The startup received IMG grant in 2018. With the help of IMG grant, the team has established a content editing team to Gyumri and hired a professional international salesperson.
"The grant greatly supported to expand our business and work closely with travel agencies in Armenia to promote our country as an attractive travel destination. Also, we published our new mobile apps and the VR app," Albert notes.
According to him, the startup targets the EU market.
"Not only Europe is one of the geographically frequented areas for travels, but also EU travelers are considered to be one of the most active ones. This means that travel agencies need to integrate innovative solutions to be able to further promote their products," he explains.
Albert thinks that the Armenian startup ecosystem has undergone dynamic improvements during recent years.
"I am extremely happy to see so many contributions and such an emphasis on developing the system, it is exciting. However, I think that any early stage startup faces difficulties no matter where it is located geographically. For us, a huge push has been the fact that I reside in the US and my network helps me a lot. At the same time, we have responsible and decent professionals here in Armenia whom I don't think I could have found somewhere else.

One of the challenges we have faced so far has been showing our product to the customers and explaining that actually, this is a great marketing tool for them. I guess many potential local customers- travel agencies still are not ready to adopt forward-looking tools to promote their products. Thus, we often use the example of foreign markets to prove that this is a tool that has really worked. Another challenge we faced so far has been related to an investment we received. The laws and regulations in Armenia are not flexible enough yet, so I wish very soon we'll have some reforms in that area, too," he tells.
Throughout 2019 360Stories will launch its seed round fundraising and expand by attracting many partners to promote the product to customers on airplanes, hotel lobbies or rooms, airport business lounges and cruise ships via VR devices.