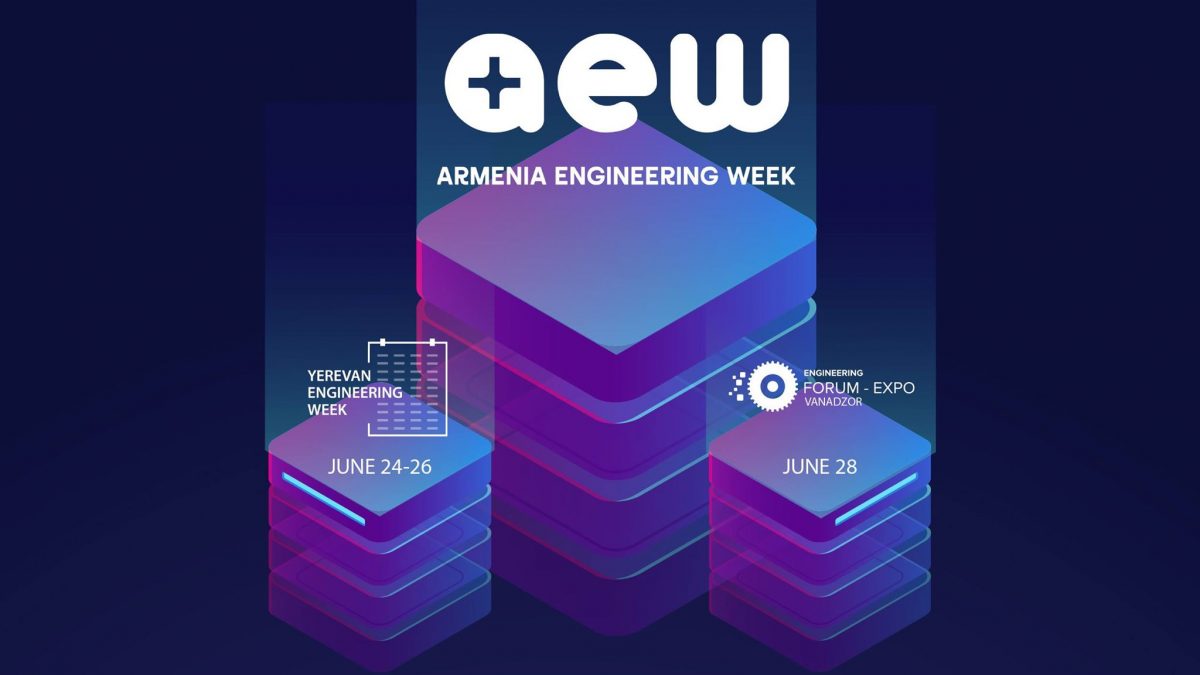 "Armenia Engineering Week" series of events will present Armenia's engineering potential
On 24-28 June, 2019, a series of events featured under the "Armenia Engineering Week" headline will be held in Yerevan and Vanadzor by the initiative of the Government of Armenia, Enterprise Incubator Foundation and Engineering Association.
Presentations, 3-day professional seminars, experience exchanging events in high-tech area are envisaged to take place in the scope of the Week.
"Armenia Engineering Week" will bring together about 500 participants from different countries of the world, including representatives of engineering and technology sectors from state, science and research, educational, donor organizations, start-up/accomplished engineering companies.
30 local and foreign organizations will present their products, solutions and services at the expo sections in Yerevan and Vanadzor organized during the week.
"I am sure that "Armenia Engineering Week" will become a unique international platform that will unite tech entrepreneurs, engineers, scientists, leading experts, students, representatives of government and business. These kinds of events are important as they position Armenia as a country offering complex and complete engineering solutions to the world.

I am proud to say that world leaders of engineering sector find complex solutions in Armenia. The catalyst of the technological and engineering development is the human. Thanks to the creative people of Armenia, the country is able to achieve leading positions, despite current economic challenges," noted Enterprise Incubator Foundation Director Bagrat Yengibaryan.

"I'd like to highlight that 90% of the speakers of the "Armenia Engineering Week" are Armenian engineers, who will have the opportunity to present all those solutions created in Armenia. Therefore, our aim is to showcase the engineering potential of Armenia and the solutions to the international guests," added Vardan Aleksanyan, Director of the Engineering Association.

"The participation of transnational corporations in the "Armenia Engineering Week" is another example of awakening of the Armenian tech industry. Focusing interest on the development of the engineering and technology sectors is promising for the Armenian economy and its international ratings. As a technological company which is interested in expanding R&D activities in Armenia, we can't miss this exclusive opportunity," noted Manager of Corporate Affairs of Philip Morris Armenia Vahe Danielyan.
"Armenia Engineering Week" will kick off on June 24, 2019, in Yerevan. Marriott Hotel will host a parallel exhibition, where Armenian engineering companies will display their solutions at individual booths.
Acting Director; Publication, Conference, Knowledge Management, ICT & Innovation Division in UN EC; Africa; President of the International Association of Members of Space Activities and high level representatives of international engineering companies will participate in the series of events of the "Armenia Engineering Week".
The majority of participants of panel discussions, which will take place from June 24 to June 26, are the best engineers of Armenia. The discussions will cover topics like self-driving vehicles, semiconductor testing and design, 5G, Industrial IOT, Artificial Intelligence and many more.
Simultaneously, on June 26, a workshop with the participation of science and research institutions of Armenia will take place.
The "Armenia Engineering Week" will conclude on 28 June, 2019, at Vanadzor Technology Center, where discussions on the results of the Week with participation of experts and representatives of public and private sectors will be held. The Vanadzor first panel discussion speakers from Armenia and abroad will talk about the engineering future of Armenia. Another discussion will be dedicated to the business and investment attractiveness of Vanadzor.
In parallel, Engineering forum-expo will be held, and the week will be closed with an open-air rock concert at the Vanadzor Technology Center Open space Amphitheater.
"Armenia Engineering Week" is organized in partnership with Vanadzor Technology Center (VTC), YEA Engineering, PMI Science/ Philip Morris Armenia, Engineering City (EC), National Instruments (NI), Innovative Solutions and Technologies Center Armenia (ISTC), Gyumri Technology Center (GTC), Gyumri Information Technologies Center (GITC), Armenian-Indian Center for Excellence in ICT (AITC), Regional Mobile Application Laboratory for ECA (mLab ECA), National Polytechnic University of Armenia (NPUA), Armenian National Engineering Laboratories (ANEL), Microsoft Innovation Center (MIC), Prime.
The official opening ceremony of the "Armenia Engineering Week" will take place at 10:00 a.m. on 24 June, 2019, at the Armenia Marriott Hotel, Tigran the Great ballroom. The "Armenia Engineering Week" will conclude on 28 June, 2019, with the Engineering forum-expo to start at 11:00 a.m. held at Vanadzor Technology Center for the third time.