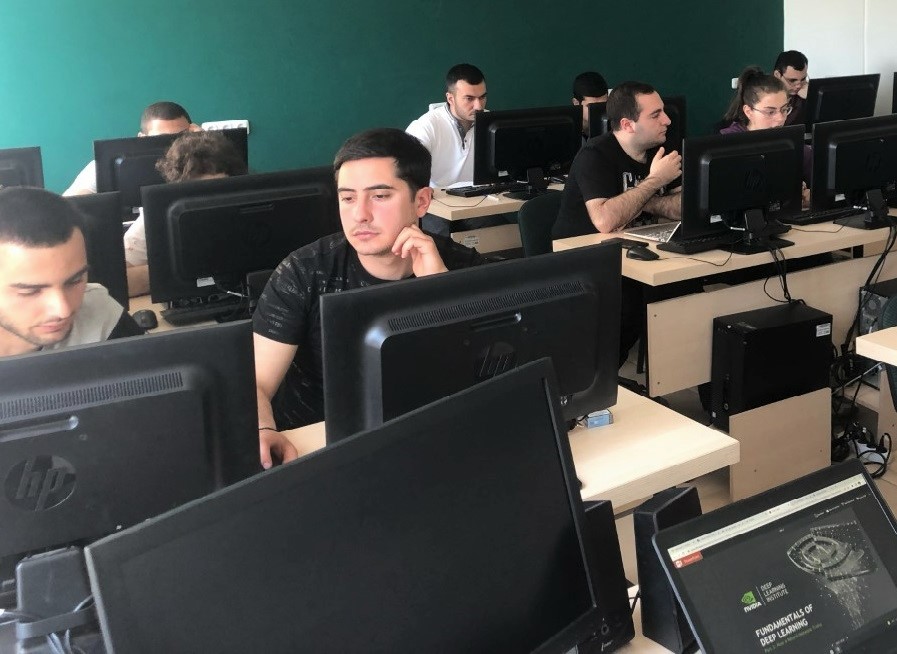 The 2nd hands-on workshop on "Fundamentals of Deep Learning" for 2022 kicked off in May
The Enterprise Incubator Foundation consistently promotes technological education and work in Armenia, particularly in the most relevant fields of Machine learning, such as deep learning.
On May 14-15 the second "Fundamentals of Deep Learning" hands-on workshop for 2022 took place as a part of workshop series initiated by NVIDIA DLI and the "Data Science for Business" master's program of YSU, in partnership with Enterprise Incubator Foundation (EIF) and Innovative Solutions and Technologies Center (ISTC).
The workshop, led by Ms. Lilit Yolyan, lecturer at the YSU Data Science in Business Master's Program and certified NVIDIA DLI Ambassador in Armenia, focused on providing the 12 participants (students and researchers) with the basics of deep learning by training and deploying neural networks․ The participants were only required to have basic experience in Python and fluency in English.
Over the course of the workshop – 4 hours a day for 2 days, the participants went through a comprehensive learning process. First, they had an opportunity to implement common deep learning workflows such as Image Classification and Object Detection, then experimented with data, training parameters, network structure, and other strategies to increase performance and capability, and deployed their networks to start solving real-world problems. In conclusion of the course, the participants were enabled to access resources needed for the creation of their deep learning programs.
We talked with the participants, and as they noted, the workshop gave them a lot of knowledge in just two days.
"I applied for the course to enhance my skills in deep learning, and I'm glad to say the workshop helped me achieve that goal," said Robert Babayan. Another participant, Albert Asatryan, added that he would like to see more workshops like the "Fundamentals of Deep Learning."
According to participant Anush Khachatryan, the event was also a great opportunity to meet and learn from the NVIDIA Ambassador, Lilit Yolyan.
"I'm really happy with this workshop, and if another one is organized, I will attend, for sure," mentioned Anush.
Another participant, Sergey Adamyan, was particularly impressed by the introductory part, noting that the course was "excellent" for beginners.
EIF, which is celebrating its 20th anniversary this year, regularly organizes and supports seminars and workshops to promote tech education in Armenia․ Such initiatives are a good opportunity for students and anyone interested in technologies to hear from leading experts and acquire practical and relevant skills․