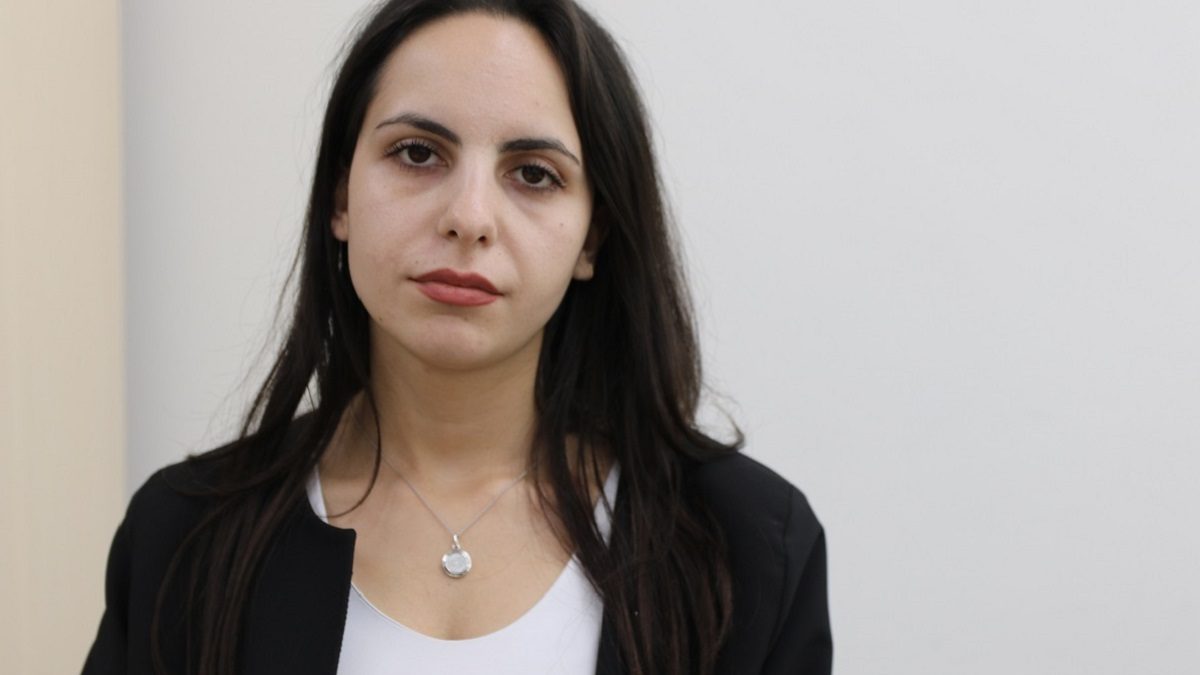 Narine Aleksanyan: It's important to have opportunities and be able to contribute to the development of your hometown"
We will be sharing stories of Project alumni in a series of blogs. Today, meet Armenia Workforce Development Activity alumni, 20-year-old programmer Narine Aleksanyan. She completed the course on "Basics of architecture, structures, and programming toolset" organized by EIF.
Narine Aleksanyan is from Vanadzor, Armenia's 3rd largest city. She is working in a construction company as a modeling expert. Narine learned about the Activity while browsing the Facebook page of Vanadzor Technology Center (VTC).
"I initially got interested in the course, decided to apply and I passed the test. It took me around 4 months to complete the course and almost immediately I received an offer from Archidutch, the Dutch company, operating in Vanadzor. I enjoyed and valued every single moment of the training and my current employment equally. We always did something different, worked on something new, it was so exciting!"
There were several rounds of exams throughout the course. According to Narine, the course was far from being easy, as there was a lot to learn, but she faced the challenge. "The biggest driving force for me was that we knew some people would get a job at the end of the course," she explained. "It was important for me to work hard during the course to gain knowledge and skills required for successful  employment."
The Activity has helped Narine consider other professions for future education. She is on the 4th course at the university, and the work experience she is gaining now has inspired her to get a master's degree in a different field – construction. "I believe it will be a useful milestone in my career. Also, I want to learn more complex programs, and grow as a professional," said Narine.
According to her, a lot of inspiration came from the environment of the Armenia Workforce Development Activity team.
"All the participants were from different backgrounds, and everyone brought their different ideas to the table. Everything that we learned will stay with us and "travel" with us to any job we take," she added.
Narine believes she will continue to live and work in Lori marz. "Moving to Yerevan would make sense only if I got a better job there," she said. The company where she's employed now has its headquarters in the marz, and Narine has no incentive to leave now. "If there are opportunities to build a career here, why should I leave?" she noted.
Narine believes that it is better for people in marzes to stay there and try contributing to the development of their hometowns and villages. According to her, the presence of talent will draw in new companies. "We can't all go to the capital and leave the provinces empty," she commented. Narine's message to other young people, living outside of Yerevan, is to find relevant interests and get education in their regions, and develop their home towns.
Armenia Workforce Development Activity is a five-year program funded by the U.S. Agency for International Development (USAID) and implemented by the Enterprise Incubator Foundation (EIF) and consortium partners, including the Armenian National Agrarian University (ANAU) Foundation, Fund for Armenian Relief (FAR), and Civitta Armenia.
Throughout its lifetime, Armenia Workforce Development Activity will provide 10,000 young people, with a particular focus on women and people with disabilities with the opportunities of getting their skills in line with the labor market needs, so that they become more competitive and succeed in better employment. The project will work closely with educational institutions such as vocational, training, higher education institutions, as well as with private sector companies to identify needs and assist in training.