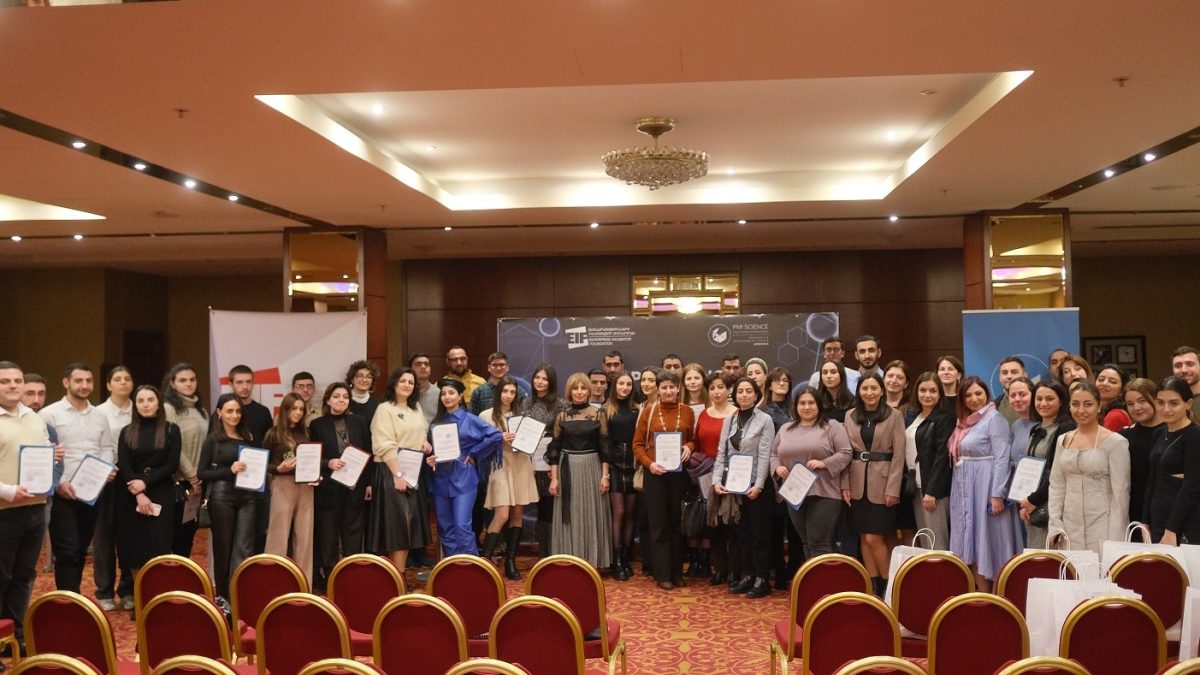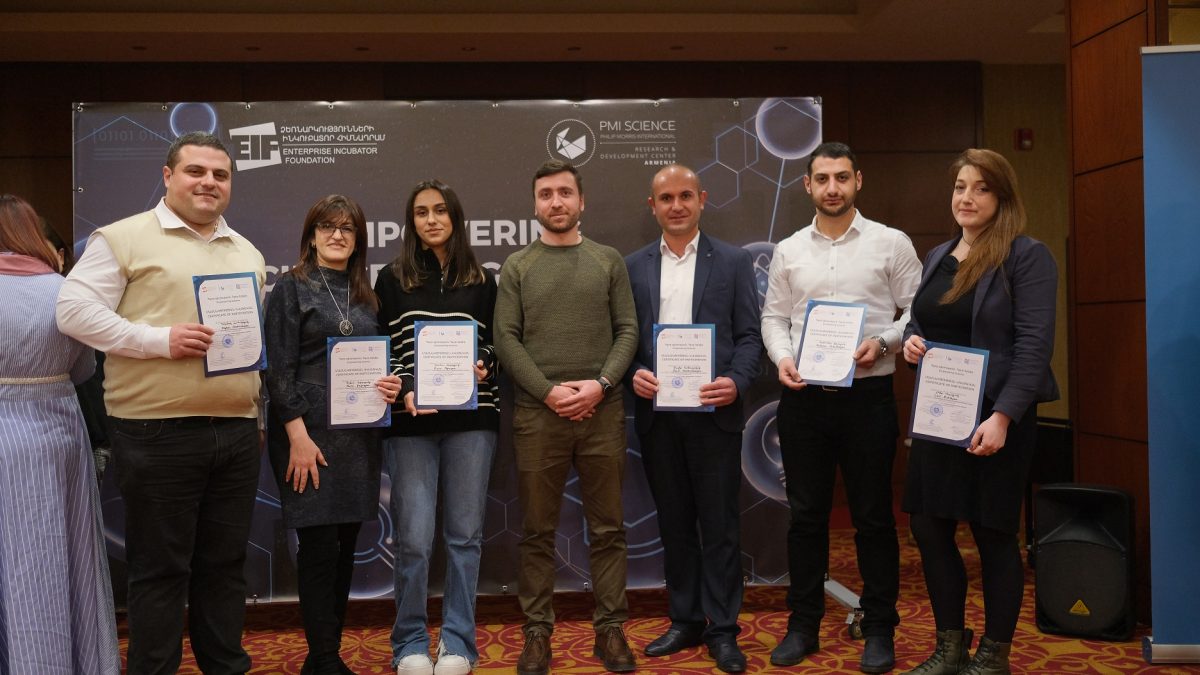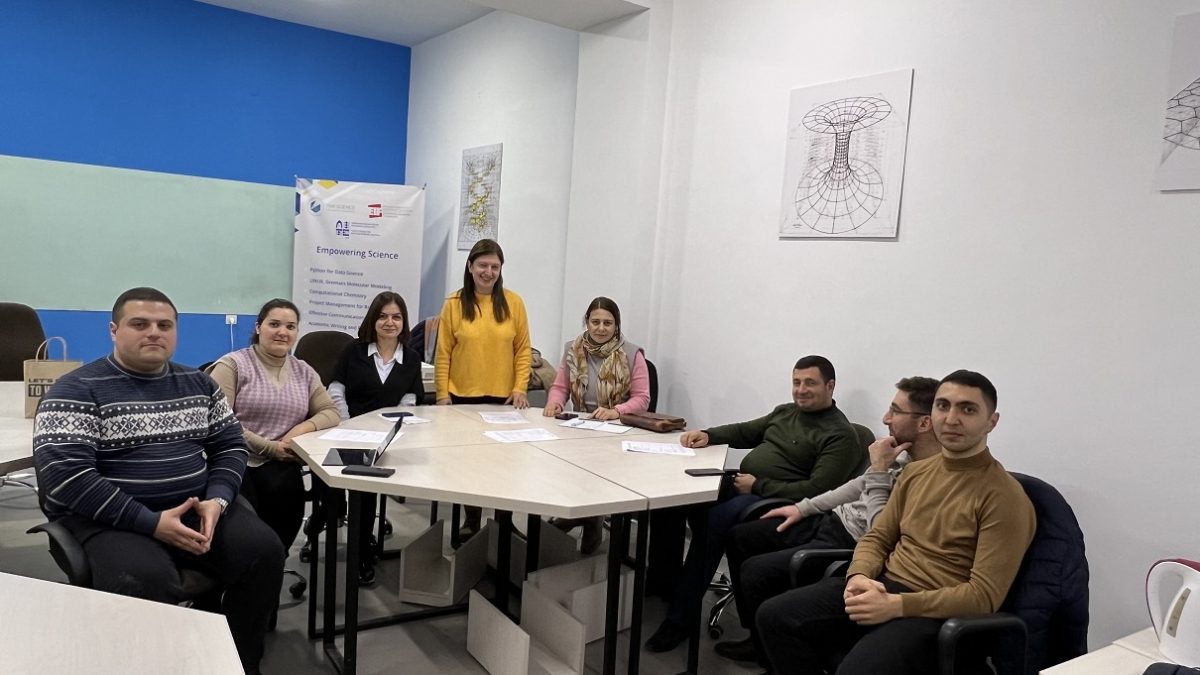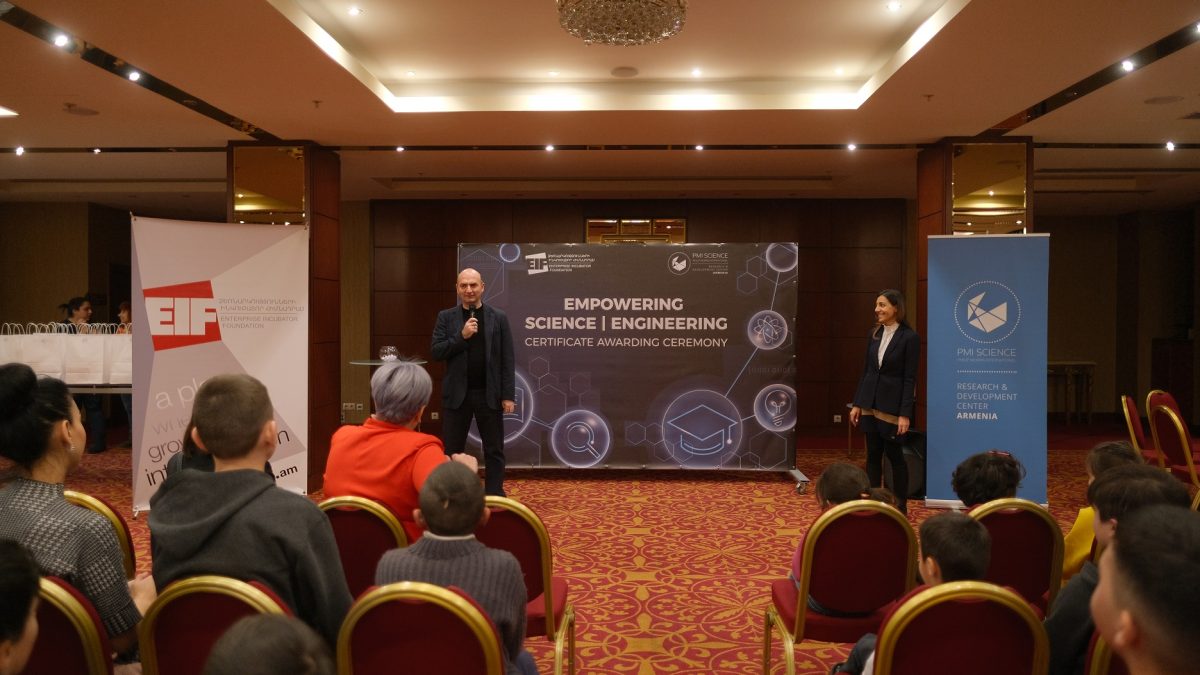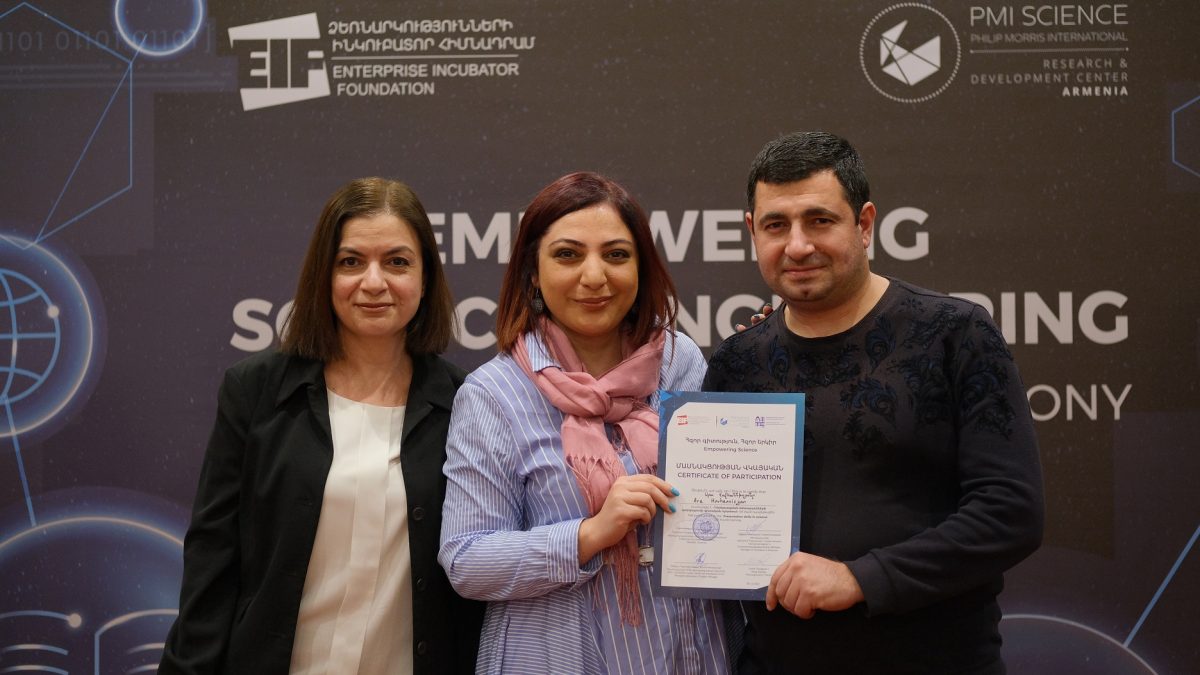 EIF teaches valuable practical skills via "Empowering Engineering" & "Empowering Science" training series
The Enterprise Incubator Foundation (EIF) continued the "Empowering Engineering" & "Empowering Science" training series in 2022.
The training program, implemented by EIF with the support of PMI Science R&D Center Armenia, aims to develop contemporary hard and soft skills among researchers, PhD, and master students to develop top capacities and talent to produce high-quality research and innovative solutions.
Seven trainings were launched under Empowering Science program, held on the topics of TRIZ Basics, Scientific Entrepreneurship, Project Management in Science, Presentation Skills, Communication and Negotiation, How to Write a Successful Proposal in Scientific Field, and English for Scientists. The trainings were held at the Armenian-Indian Center for Excellence in ICT (AITC).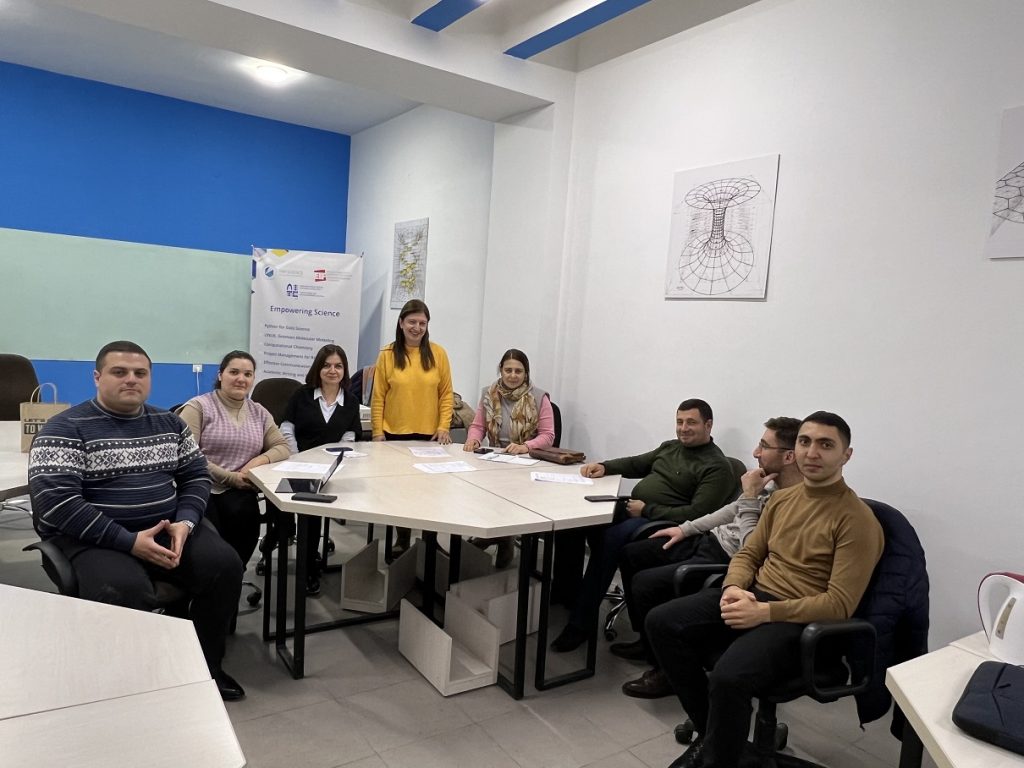 Astghik Kuzanyan, the trainer for the How to Write a Successful Proposal in Scientific Field training, noted that it taught the basic principles of writing proposals, presenting reports, and scientific data. "The students learned about available grant programs, such as those run by the Science Committee, Armenian National Science and Education Fund (ANSEF), European framework programs, Calouste Gulbenkian Foundation, Foundation for Armenian Science and Technology (FAST), etc.," she said.
"The group was quite active and included many students, so we focused on exchange programs and scholarships for students and young scientists. No country can progress without science, so such programs are very important for the preservation and development of science in Armenia."
Her colleague Margarit Baburyan, instructor for the Scientific Entrepreneurship training, said that the training was designed for scientists and students who consider commercializing their research, be it a startup or an industry collaboration. "It was a mini-accelerator aimed at helping students to form an entrepreneurial mindset. The emphasis was placed on developing their communication and presentation skills."
Margarit also taught the TRIZ Basics training, on which she noted:
"Creativity can and should be learned. The participants learned the TRIZ toolkit and how to use it to solve problems. The ability to correctly orient oneself in the situation and formulate a problem, as well as the approaches to the development of creative thinking, are especially important."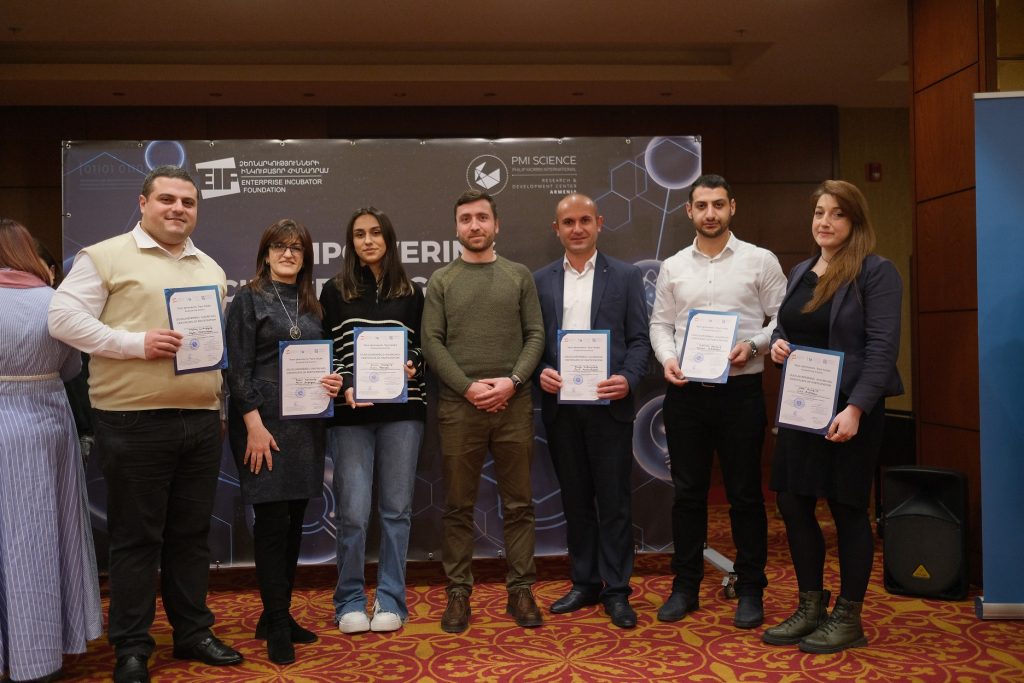 A participant of the TRIZ Basics and How to Write a Successful Proposal in Scientific Field trainings Paruyr Musheghyan is a 2nd-year master's student at the Yerevan State Medical University.
"TRIZ was a unique exercise, we worked on problems and tasks I haven't experienced before," he said. "We used the TRIZ approaches to find simple but scientific solutions.
The training "How to write a successful proposal" was very informative, it motivated me to apply for grants. The trainings enabled me to change my approaches to solve problems and to think about future educational prospects."
Another participant was Davit Hambardzumyan, a Materials Science master's student who works in an R&D Lab that is specialized in pharmaceutical synthesis. Davit attended in two trainings, Scientific Entrepreneurship and Project Management in Science.
"I really appreciated the practical part, where we presented our startup projects during pitching. I learned a lot: development and management of scientific projects, knowledge of working with a team, skills of writing and managing scientific projects," he said.
And there were 4 trainings under Empowering Engineering program, with the topics of Arduino Applications, Fundamentals of Analogue Electronics, Machine Learning, and Fundamentals of Research Prototyping. The trainings were held at the PMI Science R&D Center.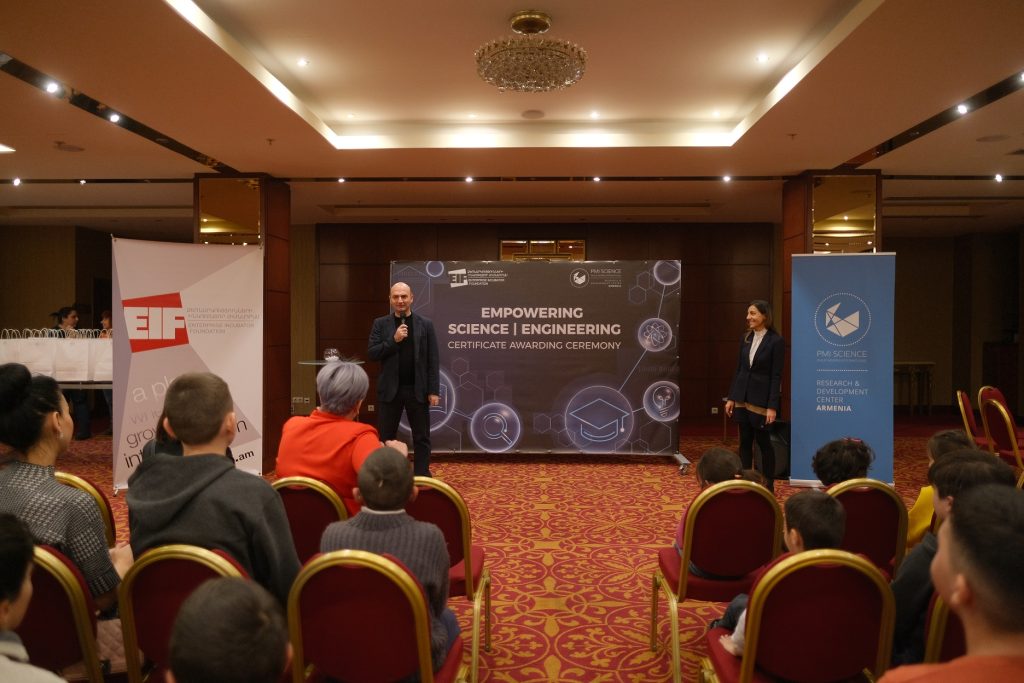 "Such initiatives provide a unique opportunity for those who want to learn something new, especially on a free basis," said Zaven Khanamiryan, the trainer of the Arduino Applications training.
"We taught plenty of skills, but the course was easy to learn. I think we really encouraged the participants to consolidate the knowledge they gained and acquire more practical skills by analyzing different examples and problems."
Arduino Applications student Margarita Varpetyan said: "Participating in this training was a big responsibility. With everything I have learned, I think I am ready to start working on various projects."
Another participant Davit Badalyan found the format of the training to be very interesting and informative. "I was especially interested in the intensive practical work, it enabled us to put together a new project in every lesson," he said.
The "Empowering Engineering" and "Empowering Science" training series serve as a good platform for teaching valuable, relevant skills to the members of Armenia's science community, whether they are working professionals or just making their first steps in the field of science. In addition, they were able to work on practical tasks together with other scientists, facilitating the formation of networks among Armenian scientists.