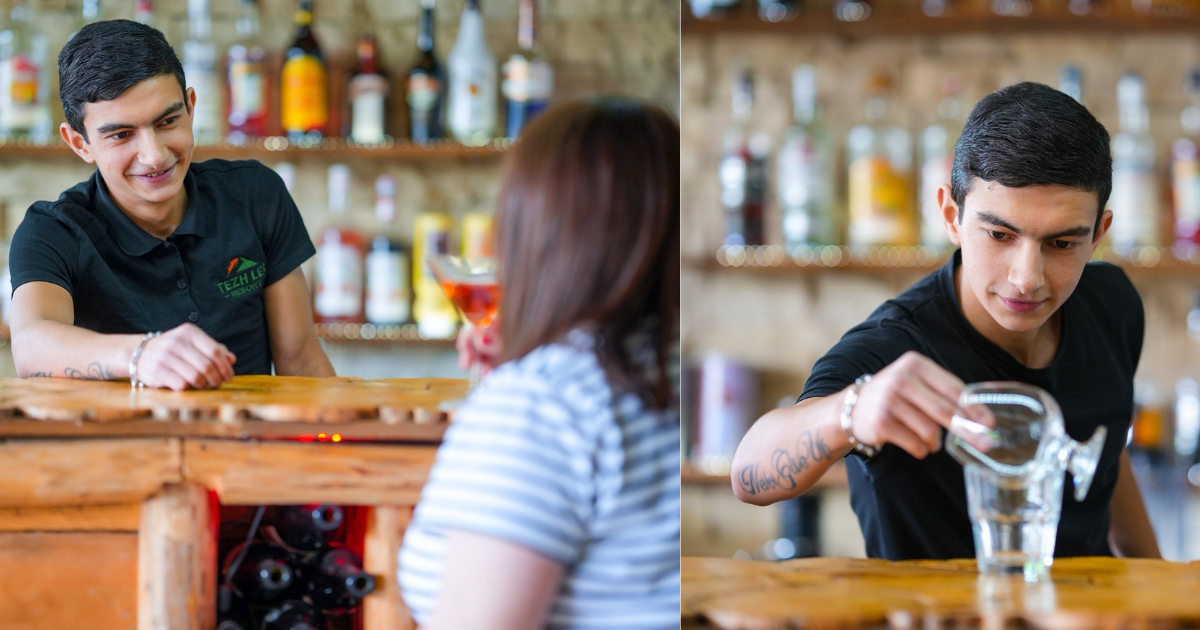 The story of Aram Babayan's non-surrender
Persist unwaveringly, continually advance, remain unyielding in the face of adversity, and derive fortitude to press onward․ This is the life motto of 21-year-old Aram Babayan.
Aram started his career as a busboy, then was promoted to a waiter, then senior waiter, and currently, he serves as a bartender. His career steps over the span of four years are very impressive. When we asked how he overcame the tough periods at work, Aram  responded: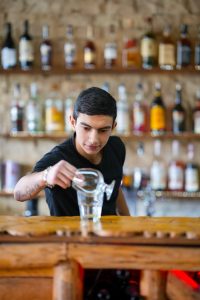 "I have never made decisions with a rash head. It has already been 4 years since I work in the 'Tezh Ler' resort. Challenges should be approached with wisdom, and when you see the results of your work, you are more encouraged and plan new goals."
Aram's life is full of goals, among which the most ambitious is to have his own restaurant. Aram takes small steps forward, trying to turn his dream into a reality, finding different paths for the growth of knowledge and skills.
In the near future, Aram plans to take a management course, as well as participate in bar management and culinary classes to reach a professional level. With the goal of owning his own restaurant in mind, Aram strives to acquire the necessary knowledge and skills, and he is currently working on smaller-scale projects in the initial stages to gain practical experience.
Aram's job to acquire new technical knowledge led him to the Vanadzor Technological Center in Armenia. He participated in the "Armenia Workforce Development Activity", implemented by EIF, where he received training in the fields of "Service and Hospitality" and "Food Safety and Personal Hygiene" to enhance his expertise in the hospitality sector.
Aram had been particularly interested in the food safety course, and his participation had not only expanded his knowledge but also sparked discussions with colleagues, such as cooks, waiters and other coworkers at the workplace.
"Expanding the field of hospitality through knowledge is vital to present Lori province in a new light," Aram emphasizes.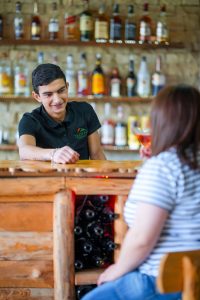 According to Aram, one of the most important components in the field of hospitality is to provide high-quality service, and in this case, the increase in the number of visitors is evident.
According to Aram, in his hometown Vanadzor, as compared to other Armenian towns, the field of hospitality is underdeveloped. Aram's main solution in this situation is to learn and implement new strategies and practices to elevate the industry.
Aram believes that young people should be actively engaged in the development of their regions. He advises young individuals to be proactive and overcome challenges as a way to contribute to the progress of their provinces.
The participants of the training courses, organized by the Enterprise Incubator Foundation (EIF) within the framework of USAID-funded Armenia Workforce Development Activity, constantly create success stories. Be part of the success yourself.
Tags In