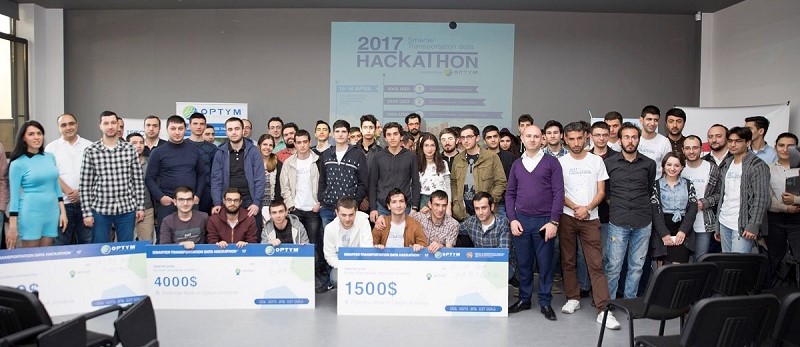 Optym Armenia, EIF and ISTC organized Smarter Transportation Data Hackathon on April 15-16
Optym Armenia, EIF and ISTC Innovative Solutions and Technologies Center set up Smarter Transportation Data Hackathon on April 15-16 which is an effective way to attract talents to unleash their creativity and collaboratively develop applications, visualizations, or information graphics within a very short time.
Smarter Transportation Data Hackathon was held on April 15-16 in ISTC center. The General sponsor of the event was Optym Armenia company, which has coordinated effort to address transportation challenge, seeing the need to encourage innovative use of transportation-related data and demonstrate its impacts to the public.
Optym Armenia is one of the world leaders in the development of decision-making systems in the transport industry, who works with some of the largest names in the transportation industry, including Southwest Airlines, FedEx Freight, and BHP Billiton. The company has 70 highly qualified specialists and is planning to expand its presence in Armenia. Optym plans to conduct a series of scientific and educational programs.
The event was organized with support of Ministry of Transport, Communication and Information Technologies of Republic of Armenia and USAID Armenia.
During the first day of the Hackathon April 15 we had several Smart Talks on Transportation from leading specialists in the field:
Arthur Ghulyan – Optym Armenia
Bagrat Yengibaryan – Enterprise Incubator Foundation
Sargis Manukyan – Yerevan City Center for Management Technology
Puneet Sharma – Optym US
Sevada Baghdyan – Menu.am
Khachatur Grigoryan – GGTaxi
From more than 70 registered teams was elected only 33 and during the Hackathon all they worked 24 hours in their projects.
All 33 Participating teams had from 2 to 4 members with different skill sets and developed a project using data sets that were publicly available or provided by Optym, Menu.am and GGTaxi.
The winners received following prizes.
The most innovative solution 4000 USD – "չDNS" team, who proposed smart bicycle sharing solutions based on the analysis of data provided by ggTaxi
The best business concept/idea 2500 USD – "Appress" team with its AutoPi solution, a mini computer that is attached to the vehicle and provides various data in real-time to the driver for optimal decision making
The most valuable solution for Armenia 1500 USD – "Babylon" team, who conducted food delivery analysis in restaurants of the Yerevan and offered smart delivery option based on machine learning.
Photo archive here.