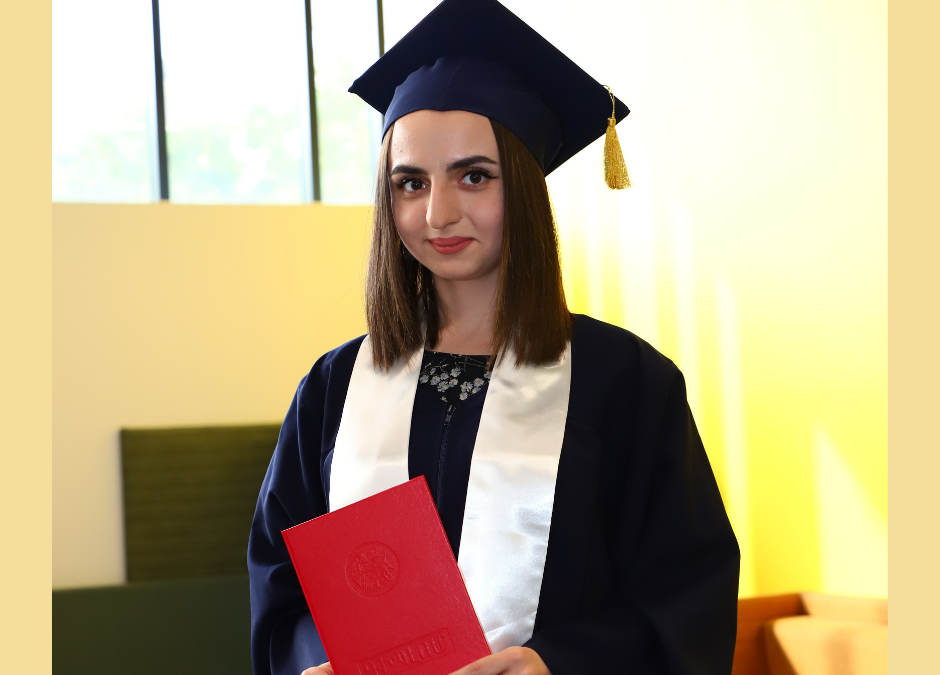 "Data Science for Business" master's degree graduate Nare Davtyan is looking to pursue a career in academia
Since 2017, the "Data Science for Business" master's degree program is being implemented at the Faculty of Economics and Management of Yerevan State University (YSU).
The two-year program aims to drive generations of data science professionals with the knowledge and skills to solve real-world problems in various industries. The unique model of the program combines the efforts of Yerevan State University (YSU), San Jose State University (SJSU), Enterprise Incubator Foundation (EIF), Innovative Solutions and Technologies Center (ISTC), and PMI Science R&D Center Armenia.
In the frame of the program, EIF with the support of PMI Science has already provided financing to 63 students. 
***
One of the beneficiaries of the "Data Science for Business" program is 23-year-old Nare Davtyan, who has graduated from the YSU "Data Science for Business" master's degree program in 2021. Thanks to the unique and professional approach of the program, every graduated student finds a competitive job in data science or related areas and Nare is not an exception. Currently, she works at the Digitain Armenia office as a B2C business success analyst.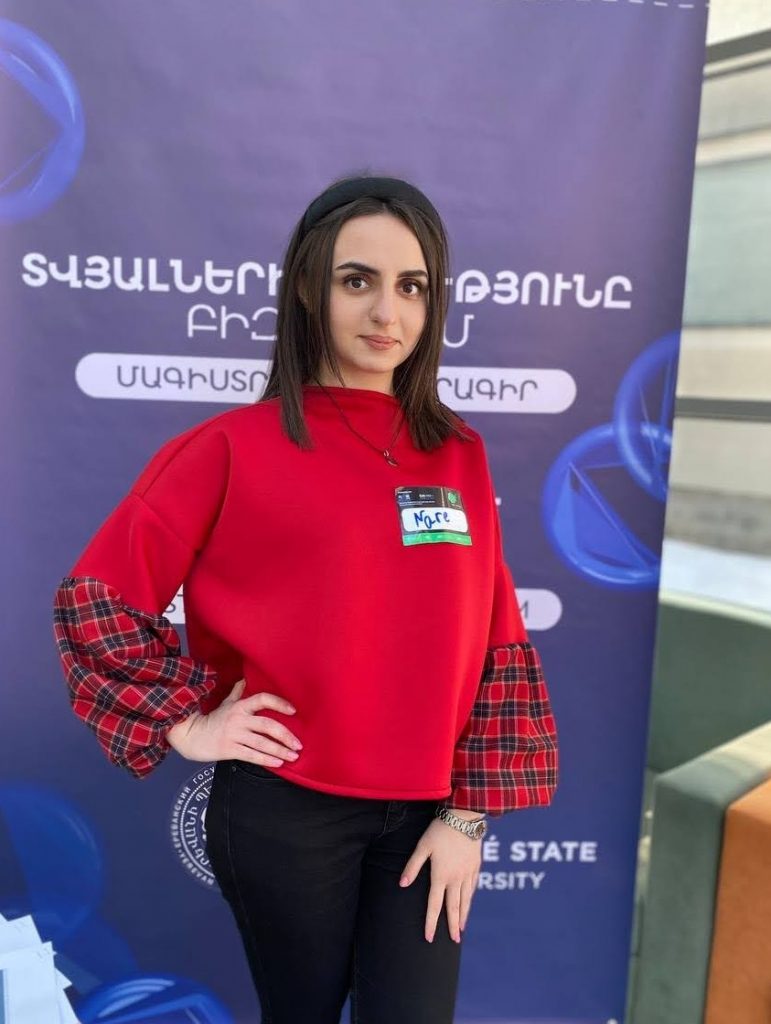 "After earning my bachelor's degree in Actuarial and Financial Mathematics two years ago, I couldn't decide where to continue my education," told Nare.
Her choice was further complicated by her desire to learn a different profession that would give her a new perspective. That is when the YSU "Data Science for Business" master's degree program caught Nare's attention.
Data Science for Business: Next generation of data scientists are getting educated with the support of EIF and PMI Science
She learned details about the syllabus, faculty and the available opportunities of the program from the program chair Ruben Gevorgyan. "After our talk, I knew I had to enter this program," recalled Nare.
It was far from being easy, as the program started with learning two programming languages (Python and R) simultaneously. According to Nare, sometimes it seemed impossible to keep up with the program, but the lecturers' constant support and encouragement helped her and other students to overcome the difficulties along this journey.
"We worked as a team a lot," said Nare. "We had so many group projects! That has given us invaluable skills in teamwork in addition to the fundamental knowledge we obtained."
She reminisces about the time in YSU with notable fondness, noting that they all had a great time.
Based on her efforts, dedication, and progress throughout studies Nare got the chance to receive financing from EIF with the support of PMI Science. The latter was crucial for Nare as "it is hard to combine studies and job, but as I got the financing, I was able to work part-time and focus on my education more without worrying about the money," she explains.
Wonderful news is that Nare has also decided to share her knowledge with younger generations and start a career in academia by pursuing a PhD degree as well. "I want to contribute to the development of science and technology in Armenia," noted Nare. Her love for science is as strong as ever, and she views a PhD as a great opportunity to develop a school of data science in Armenia.
There is a piece of advice Nare has to share with younger people seeking to become data scientists.
"Read papers, read books, read articles – all there is to read on data science. It is developing really fast!" said Nare. The key is to keep up with the innovations if one wants to be a good expert. She had one more thing to add: "Don't hesitate to ask questions. You see someone experienced in data science? Go, talk to them!".