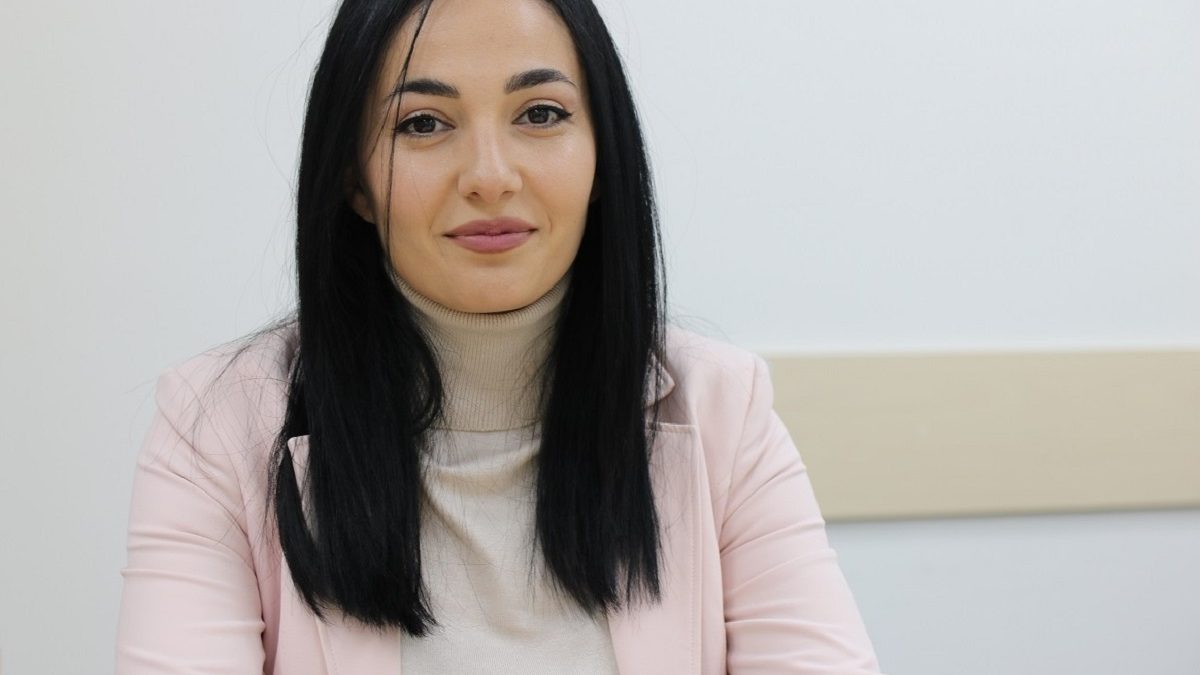 Gayane Tumanyan: "So much can be done in Vanadzor"
Gayane Tumanyan, an Armenia Workforce Development Activity alumna, will share her story in today's blog. 
Gayane is attending the "C#/.NET programming" course. For her, it is the fourth career field.
"Tourism was the first. I also worked as a tour manager, and by the second profession I am a lawyer. Now I'm a mother, so raising the kids is my third job!"
Having added programming to the list, 28-year-old Gayane is thinking about which field to settle in now.
"I learned about the "C#/.NET" course, delivered at Vanadzor Technology Center from my friends, because the place is very popular among Vanadzor youth, and everyone wants to study at the Center," noted Gayane.
She applied just before the deadline and soon fell in love with the course. "It was like composing a music piece," compared Gayane. "It was very different from what I had expected."
Narek Aghbalyan: "It's important to study well and be competitive in the labor market"
She is still learning, but her initial love of coding only grows. According to Gayane, she came to the VTC thinking that programming would be boring office work, and the creative nature of the process took her by surprise. "The fact that you are actually creating something is very motivational," added Gayane.
She is very overwhelmed by her range of professions and duties. "I have so much energy, to be honest, I hardly manage to spend it," confessed Gayane. Now that her children go to school and are more independent, she has more free time for herself. "Thankfully, my husband and my family are very supportive, thus I have time to learn things and start building a career," Gayane underlined. She actually had her children while getting higher education, so combining career and family is business as usual for Gayane.
Elen Mashakaryan: "There are opportunities, and we should take advantage of them"
She touched on personal and professional plans as well.
"I moved to Vanadzor from Yerevan when I got married. I love this town now, the atmosphere and the people, and I plan to stay and work here in the near future. I don't see my family leaving," said Gayane.
In her opinion, one needs to settle on the work they love. "You've got to get the sparkle in your eye when you think about it, wake up excited to do your job," added Gayane. "That's how you get good results!"
The course at VTC was her first step into programming. According to Gayane, in those months she and other participants learned as much as they would in years on their own. "Our instructor, Sergey, never gives up. He explains everything as many times as needed, we constantly discuss things and write codes," Gayane described the learning process.
"We, young people in Vanadzor, are eager to learn. There should be more events and opportunities. Awareness is an issue because many young people and students don't know what opportunities already exist. We shouldn't rely on word of mouth. It would also be good to involve more young people in the organization of events," said Gayane.
Her advice to other young people in Vanadzor is to find a way to express their identity and allocate that potential to developing their hometown, their native province.
"We have to shift our mindset: stop thinking there is better life only in Yerevan and start thinking what we can do, build and organize here," noted Gayane.
According to her, there's a lot to be explored and created in Vanadzor in terms of culture and business. The key to success, Gayane believes, is to not give up when something doesn't work out, but to keep moving forward and demonstrate the variety of opportunities in Vanadzor through any means possible, be that an art installation or a walking tour.
Armenia Workforce Development Activity is a five-year program funded by the U.S. Agency for International Development (USAID) and implemented by the Enterprise Incubator Foundation (EIF) and consortium partners, including the Armenian National Agrarian University (ANAU) Foundation, Fund for Armenian Relief (FAR), and Civitta Armenia.
Throughout its lifetime, Armenia Workforce Development Activity will provide 10,000 young people, with particular focus on women and people with disabilities with the opportunities of getting their skills in line with the labor market needs, so that they become more competitive and succeed in better employment. The project will work closely with educational institutions such as vocational, training, higher education institutions, and private sector companies to identify needs and assist in training.