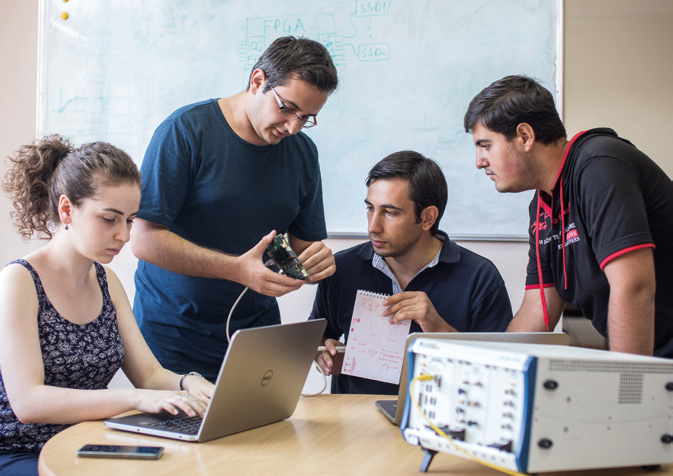 Apply to IMG grant and get a chance to develop an innovative solution: success story by Grovf co-founder
Grovf, one of our previous startup grantees, is a unique dedicated database server specifically designed for storing and optimizing the IIoT sensors generated data.
The prototype has already shown its advantage by accelerating transactions 10 times compared with similar solutions.
Grovf team is composed of 12 professionals with a solid background in business and technology fields. The main location of the company is Yerevan, Armenia and Berkeley, California.
The team has received an Innovation Matching Grant in May 2017, which was used to accomplish Grovf's research and development initiatives.
"The funding enabled us to further ameliorate our technology, making it an even more compelling proposition to our clients. Due to IMG grant, we also grew our team with new experienced members who helped accelerate the project development and achieve our ambitious goals," Grovf co-founder Khachik Sahakyan notes.
He has valuable advice for prospective applicants of the Matching Grant competition (application deadline – August 6).
"First of all, entrepreneurs need to ensure their idea's relevance to market needs and don't be afraid of the lack of resources during the early stages. Idea validation can be done almost free of cost, but it can save a lot of time and energy in the future.

It is equally important to keep in mind that grants are just means to reach your final goal and never the goal itself. If you win a grant that does not mean that you will win customers, which is very important. Similarly, if you do not win a grant that is not the end. Remember your final goal is to win customers and sell," Khachik Sahakyan adds.
IMG grantee Grovf announces Accelerator program and Alliance partnership with Xilinx Inc.
Grovf is now working on a MonetX memory expansion project which aims to be a compelling solution for the hyperscale datacenter memory expansion and memory-centric computing.
"Thanks to its flexible and cost-efficient nature, this technology will allow to expand the memory by tens of TBs per server and hereby exponentially accelerate computing. For the upcoming 1 year, our plans include finalizing the pilots of the product and the realization of its first sale to one of the biggest hyperscalers in the field," Khachik Sahakyan explains.
The entrepreneurs with such a bright vision and willingness to change the world are encouraged to apply for the IMG competition, which can open new doors with exciting opportunities.
***
Enterprise Incubator Foundation has announced the Innovation and Regional Matching Grant competition, in the scope of the "Matching Grants" Program implemented with the assistance of the RA Government, RA Ministry of High-Tech Industry and the World Bank.
The Grant Program aims at assisting companies operating in Yerevan and in the regions to develop their innovative tech products and solutions, as well as to direct them to promote traditional sectors of the economy, such as tourism, agriculture, energy, etc. It is expected that the projects submitted to this grant competition will also help to overcome the economic consequences of the epidemic, especially in the most vulnerable areas.
The deadline to apply is August 6, 2020, 23:59 (Yerevan time). Learn more about the program and application process here.